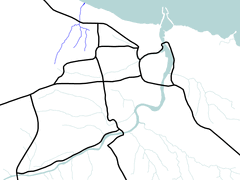 Three unnamed tributaries join to form Upgang Beck as they pass under Sandsend Road at the top of Upgang Ravine. As the Town Boundary follows the westernmost tributary it can be assumed that this tributory is Upgang Beck.
Upgang Beck
Edit
Upgang Beck runs from springs (NZ 8750 1057) just a few metres north of the headspring of Stakesby Beck at the aptly named Spring Hill between Newholme Hall (formerly Fern Hill) and Ewe Cote north-west of Sneaton Castle. It forms the western boundary of Whitby Town for it's length.
It runs north passing several boundary stones and following field walls for most of it's length. It runs under the lane between Ewe Cote Farm and Newholme Hall, and continues northwards towards Sandsend Road. As it approaches Sandsend House it turns east and joins the other two tributories. It passes through a conduit far beneath the embankment under Sandsend Road at the head of Upgang Ravine and flows noth through Whitby Golf Course towards the old Upgang Railway Bridge. At this point it disappears underground again. It reappears a few metres before it runs across the beach into the sea just west of the site of the Upgang Lifeboat Station.
Upgang Beck can be followed on foot from the headspring by walking from Castle Road and walking along the lane to Newholme Farm. The lane turns west and at the point that it turns north-west Upgang Beck issues from a conduit just north of the road. It can be followed to the sea from this point.
Centre Tributary
Edit
The centre tributary issues at Ewe Cote (NZ 8787 1086) and flows north. For most of its length its course has been landscaped through Whitby Golf Course. It meets the eastern tributary just before it joins Upgang Beck itself just before Sandsend Road. The headspring can be accessed by following the footpath that leads westward from the north-west corner of the playground at end of Westbourne Road.
Eastern Tributary
Edit
The eastern tributary issues from springs hidden behind XX Westbourne Road (SK 8819 1089), it then flows north along a drain through Castle Park under Derwent Road, skirting the end of Highfield Road, under Field Close, skirting the western boundaries of properties on Parson's Close. Here it joins a very short tributary from the other side of Parson's Close as they flow west to join the centre tributory and then join Upgang Beck itself at Sandsend Road.