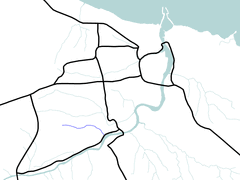 Turnerdale Slack
Edit
Turnerdale Slack runs from springs above Lambert Hill Farm (NZ 8783 0929) though the contours and field boundaries suggest headwaters may flow underground from near Sleights New Road/A169.
It flows south-easterly through the grounds of Turnerdale Villas near Turnerdal Hall and under The Carrs to join the Esk just above Ruswarp Wier.
Ad blocker interference detected!
Wikia is a free-to-use site that makes money from advertising. We have a modified experience for viewers using ad blockers

Wikia is not accessible if you've made further modifications. Remove the custom ad blocker rule(s) and the page will load as expected.