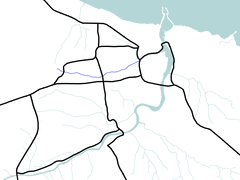 Variously refered to as Stakesby Beck, Stakesby Vale and Stakesby Vale Beck. Runs from Castle Road near Seaton Castle through Stakesby Vale before joining Arundel Beck and becoming Bagdale Beck. It forms a Town ward boundary between Stakesby Ward and Ruswarp Ward/Mayfield Ward for most of it's length.
Stakesby Beck
Edit
Stakesby Beck runs from springs (NZ 8752 1052) just a few metres south of the headspring of Upgang Beck at the aptly named Spring Hill between Newholme Hall (formerly Fern Hill) and Ewe Cote north-west of Sneaton Castle. It has been culverted under the field north-west of Castle Road and only becomes visible as it passes Sneaton Castle.
It runs eastwards towards Four Lane Ends (Mayfield Road roundabout), flowing under Switchbacks (Stakesby Road) and flows through Stakesby Vale and Factory Fields. Near the old West Cliff railway line it flows underground and under Arundel Place where it joins Arundel Beck at the bottom of Chubb Hill Road and becomes Bagdale Beck and runs into the harbour.
Ad blocker interference detected!
Wikia is a free-to-use site that makes money from advertising. We have a modified experience for viewers using ad blockers

Wikia is not accessible if you've made further modifications. Remove the custom ad blocker rule(s) and the page will load as expected.