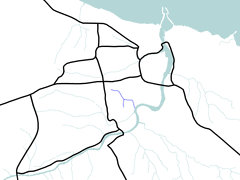 In the absence of any name on any map, I have labelled this Fitts Beck as it flows under Fitts Steps. Along with Ruswarp Beck it more-or-less forms a boundary between Whitby proper and Ruswarp, and is a Town ward boundary between Mayfield Ward and Ruswarp Ward.
Fitts Beck
Edit
Fitts Beck runs from springs near Mayfield Nurseries at the top of Ruswarp Bank (NZ 8879 1003). It flows south-eastery towards the Esk, joining a short tributory running from the south. It flows under Fitts Steps and then into flood meadows that used to be the course of the Esk before it was diverted by the railway line. Fitts Beck then flows along the upstream portion of the former Esk to pass under Water Lane and the railway line to join the Esk slightly downstream from Ruswarp Beck.
Fitts or Fitz
Edit
Colin Waters (A History of Whitby & its Place Names, 2011) refers to Fitz Steps and the area near the Esk as Fitz, formerly The Batts. Maps show Fitts Steps, so I have used that name here.