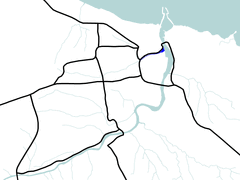 Bagdale Beck is the final stretch of Stakesby Beck and Arundel Beck as they run into the harbour. Almost all of it is now underground.
Bagdale Beck
Edit
Stakesby Beck and Arundel Beck join underneath the junction of Arundel Place and Downdinner Hill (NZ 8940 1071). They then flow eastwards as Bagdale Beck. It now flows under the front gardens of 28-36 Bagdale. It then runs under the back lane of Broomfield Terrace, where the Victorian Spa House has access to the waters.
The entrance to Carr's Yard next to 10 Bagdale shows a filled-in bridge where Bagdale Beck continues under the front yards and through the old Bagdale Brewery (now Bagdale Court) and then under Bagdale itself. It flows under Victoria Square and Station Square, joining the harbour at Dock End. With Scate Lane (Brunswick Street), Bagdale Beck formed the boundary between the pre-1900 Whitby and Ruswarp parishes.
Bagdale Beck was once navigable almost as far as Broomfield Terrace, and had shipyards along it. Bagdale Beck shows itself in times of very heavy rain and high tide, when it rises to flood Victoria Square and Station Square.
Ad blocker interference detected!
Wikia is a free-to-use site that makes money from advertising. We have a modified experience for viewers using ad blockers

Wikia is not accessible if you've made further modifications. Remove the custom ad blocker rule(s) and the page will load as expected.