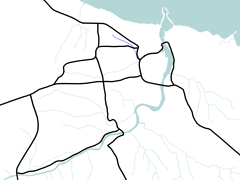 Arundel Beck is now completely buried. It runs from near Rose Avenue under the old railway line, down Chubb Hill to join Stakesby Beck and become Bagdale Beck.
Arundel Beck
Edit
Maps from before the Chubb Hill Road and the Whitby-Loftus railway was built show Arundel Beck running along a valley called Arundel Hole. It starts from a spring near Rose Avenue (NZ 8884 1123) - now underground - and runs underground under the old railway line passing under Stakesby Road just east of the site of the railway bridge.
It runs behind almost exactly under the car park and access road to Spring Vale Medical Centre and under Rievaux Road. It meets Chubb Hill Road at The Circle and runs under Chubb Hill Road where it can be heard running under manhole covers in the road. It continues until it joins Stakesby Beck at the end of Arundel Place. It then flows to the harbour as Bagdale Beck.
Ad blocker interference detected!
Wikia is a free-to-use site that makes money from advertising. We have a modified experience for viewers using ad blockers

Wikia is not accessible if you've made further modifications. Remove the custom ad blocker rule(s) and the page will load as expected.